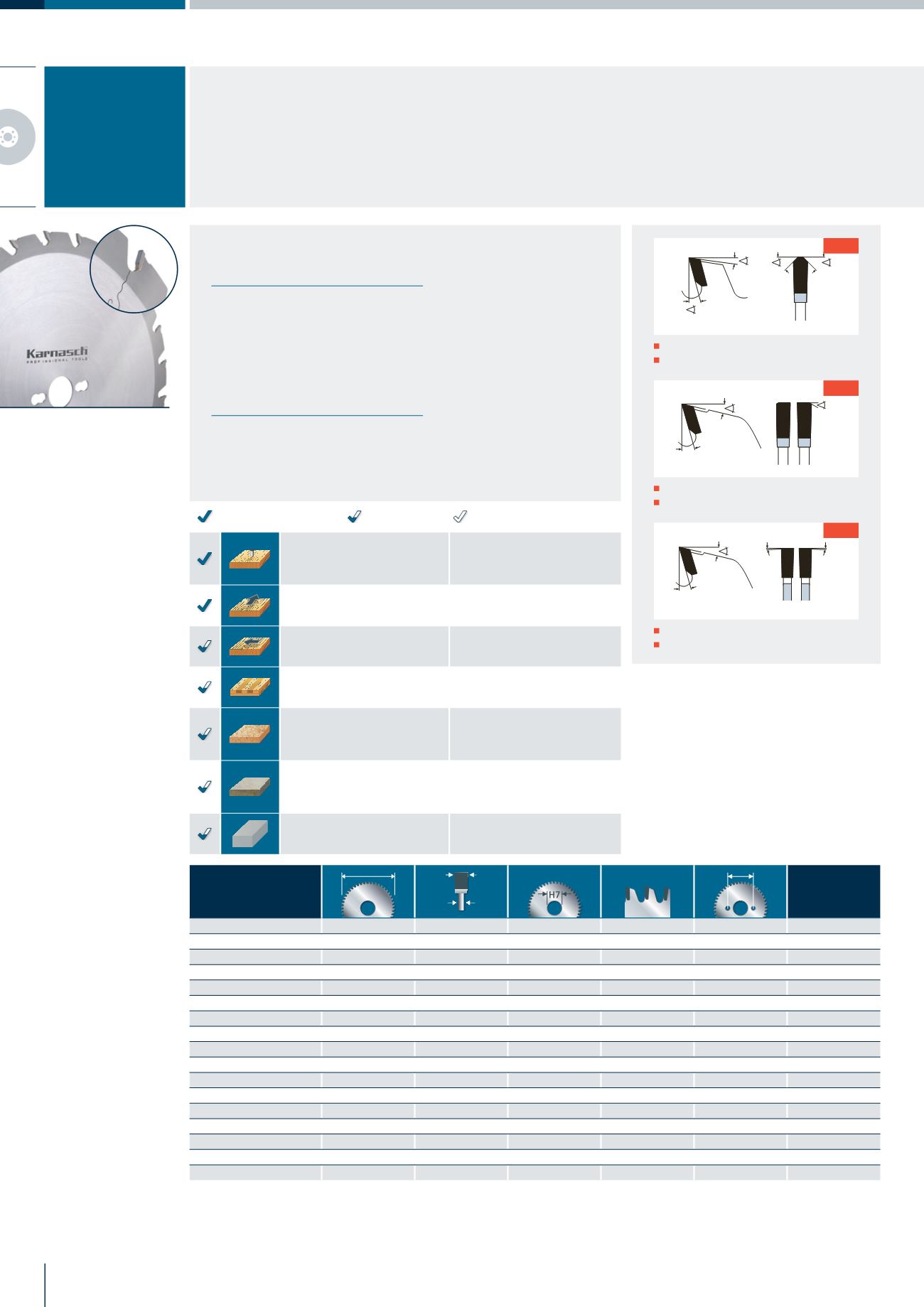 16
NÄPFLIN TOOLS
//
www.nste.ch
BAUSÄGE
CONSTRUCTION SAW
Hartmetall-bestückte Kreissägeblätter
Carbide Tipped circular saw blades
Artikel
Article
Preis/Price
in
€
111250.136.010
136
2,6/1,6
20/10
10 TT
2-6-32
17,45
111250.160.010
160
2,6/1,6
20/16
12 TT
2-6-32
19,70
111250.180.010
180
2,8/1,8
30/20
12 TT
2-7-42
21,35
111250.185.010
185
2,8/1,8
20/16
12 TT
2-6-32
21,45
111250.190.010
190
2,8/1,8
30
14 TT
2-7-42
23,45
111250.210.010
210
2,8/1,8
30
14 TT
2-7-42
25,75
111250.216.010
216
2,8/1,8
30
14 TT
2-7-42
25,75
111250.230.010
230/235
2,8/1,8
30
16 TT
2-7-42
28,70
111250.250.010
250
3,2/2,2
30
20 TT
UNI
33,50
111250.300.010
300
3,2/2,2
30
24 FWF
UNI
38,50
111250.315.010
315
3,2/2,2
30
24 FWF
UNI
39,45
111250.350.010
350
3,5/2,5
30
28 FWF
UNI
48,70
111250.400.010
400
4,2/2,8
30
28 FWF
UNI
52,65
111250.450.010
450
4,2/2,8
30
32 FWF
UNI
67,45
111250.500.010
500
4,2/2,8
30
36 FWF
UNI
82,50
111250.600.010
600
4,2/3,0
30
40 WZ
UNI
130,50
111250.700.010
700
4,4/3,2
30
46 WZ
UNI
168,95
UNI = 2-7-42 + 2-9-46,40 + 2-10-60 Gefertigt/Manufactured 232,50 mm
Art.
11.1250
MASCHINE · MACHINE
ANWENDUNG · APPLICATION
Für Tischkreissägen, Baukreissägen, Handkreissägen, Tauchsägen
For table circular saws, construction circular saws, protable saws
Für den harten Allroundeinsatz auf der Baustelle. Schneidet sämtliche Bauhölzer
längs und quer. Schaltafeln mit Mörtel, bzw. Blechummantelung, Paletten, Gas-
betonsteine, Heraklith, Zementgebunde Faserplatten u.ä.
For though all-round application on the building site. Makes longitudinal and
crosscuts in all construction wood. Form-work boards with mortar or sheet metal
casing, pallets, aerated concrete, Heraklith products, cemented fibreboard, and
similar material.
Trapez-Trapezzahn
Triple-chip/triple-chip teeth
Flachzahn Wechsel-Fase
Flat tooth alternating bevel
Wechselzahn
Alternate top bevel
12°
10°
45°
45°
18°
12°
30°
18°
12°
5°
5°
TT
FWF
WZ
OPTIMAL · OPTIMAL GUT · GOOD MÖGLICH · POSSIBLE
Holz mit Einschlüssen wir Nägel,
Klammern, Beton- und
Mörtelreste
Wood with inclusions like nails,
clips, concrete residues
Weichholz, Hartholz,
Exotenholz, Längs
Soft wood, hard wood, exotic
wood, along the grain
Weichholz, Hartholz,
Exotenholz, Längs
Soft wood, hard wood, exotic
wood, along the grain
Leimholz, Tischler- und Furnier-
sperrholz, Schichtholzplatten
Bonded wood, blockboard and
veneer plywoo, laminated wood
Spanplatten, Hartfaserplatten,
Platten ohne Belag LDF, MDF,
HDF
Chipboard, hard fibre board,
boards without laminate LDF,
MDF, HDF
Gips-Zement-Steinwollplatten,
Eternit, GFK, CFK, HPL,
Mineralwerkstoffe
Gypsum/Cement fibre boards,
Rockwool, Eternit, GRP, CFK,
HPL, Mineral material
Gasbetonsteine
Autoclaved aerated concrete
blocks